We are committed to encouraging readers to explore new authors and books through the use of technology. We believe that our platform will help you find those books and now we even give you a chance to win a $50 Amazon egift card to use however you want plus some free books. This giveaway is open to all fairgoers and we hope that if you will enjoy them and help support the authors in our community by telling your friends about them and their books.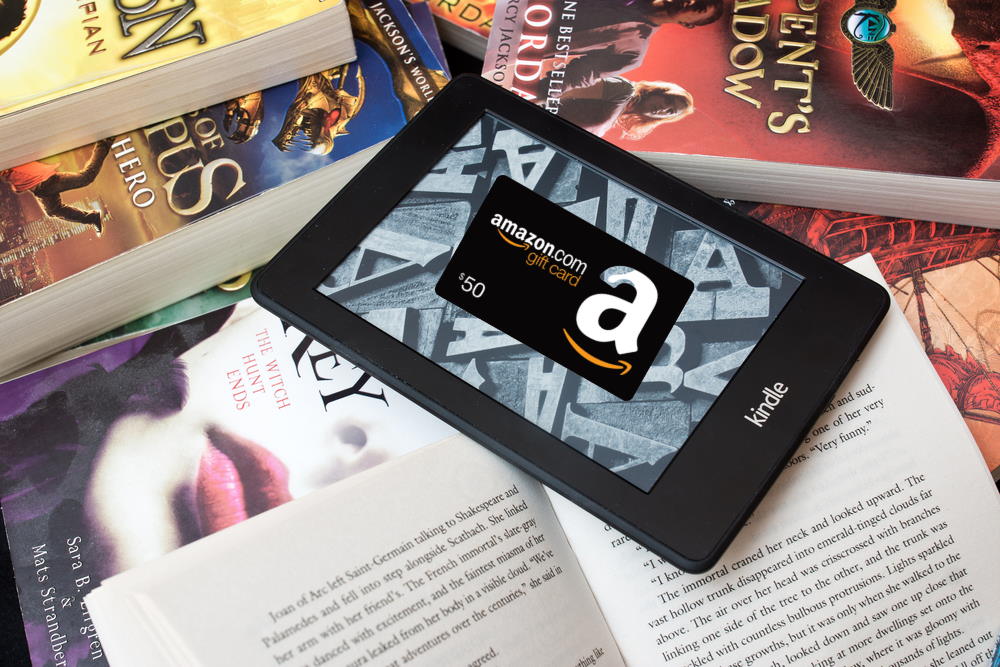 Frequency of Giveaways
In order for there to be a giveaway in any given week, there must be a fair that is in the first week of being published. Only fairs that are in active voting periods will show the giveaway form for everyone to sign up. If you don't see a giveaway on a fair that just means that the fair is outside of its voting window or you may have already submitted for the giveaway.
Where is the Entry Form?
The entry form for the weekly giveaway is at the bottom of each fair that is currently in the voting period (been published for a week or less). Please go to one of those fairs and scroll to the bottom of the page to find the entry form. If no fairs are currently in their voting periods you will see the sign up form below instead.
Fair and Simple Rules
We know how important it is to have rules to govern a giveaway. Our rules are very straightforward and have intentionally been kept to a bare minimum.
The Actual Prize - The prize will be a $50 Amazon egift card plus downloads codes or links from Amazon for some of the books in the top 10 vote getters for the week (the number of books will range from 3 to 5). This could also vary from week-to-week based on the availability of each book on Amazon.
Ineligible Members - The only ineligible members are employees of eBookFairs and their immediate families. Everyone else is welcome to participate including all of the authors on our platform. You also do not need to be a member of the platform to win the giveaway.
Winner Eligibility - Since the winner is picked completely randomly it is possible for someone to win more than once and that is allowed. No entrants are removed from the random selection process.
Winner Selection - We use a random seed that is generated by our system and then query the database for entrants each week. The query will return one random record and that person will win the giveaway. There will be no manual intervention in this process.
Prize Delivery - We will send the prize notification email to whatever email was entered in the giveaway (no exceptions, so please use the correct email address). To claim the prize the winner just needs to respond to the email and optionally tell us which book they would like to receive (we can pick for them as well). Any prizes not claimed in 90 days will be considered unwanted and therefore are forfeited with no replacement winner.
Public Results
We feel it is important to show the winners from all weeks of the giveaway here on this page. If you believe you may be a winner and you just didn't know it for some reason, please contact help@ebookfairs.com so we can help you out.'
Winning Date
Email (Masked)
Loading or no winners match this search.
Other Sweepstakes Rules
The rules of this sweepstakes will not be changed unless it is necessary. If it is deemed necessary, this is the location where you can see any updates to the rules of the giveaway.
Ongoing Prizes - Since our giveaway and book fairs offer continuous prize opportunities by entering you agree to being notified regarding the books, fairs, and prizes. You can discontinue this at any time as well but this is important as it allows us to notify the winner each week.
Deliverability - If for some reason Amazon is not available where you live or you do not have a device that can read the books then the prize can be forfeited.
All Applicable Laws - If any laws prohibit you from winning whether they are state, local, or national laws then the prize will be forfeited. You agree that there will be no circumstance where giving or receiving this giveaway could possibly violate any laws under which either party is subject to.
Term of the Giveaway - This is an ongoing weekly contest that we intend to keep going (as long as there is a book fair in any given week). If for any reason we decide to discontinue it we will do that with at least a week's notice here on this page unless we are forced to close the giveaway for some other reason beyond our control.
Privacy Policy - Th privacy policy of eBookFairs.com applies to this giveaway in addition to all other activities on our platform. Please review that here if you have any privacy questions or concerns.
Administrative Contact
This giveaway is being managed by the team at eBookFairs.com. If you have questions or need assistance please reach out to us at: help@ebookfairs.com and we will do our best to answer as promptly as we can.